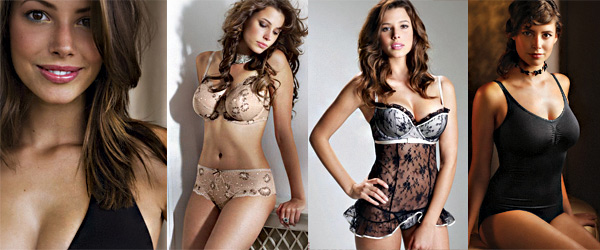 Lucy Bayet might be a great fit to the current catwalk scene, but I haven't see a better fit for swimsuits or lingerie lately. She's curvier than most of the runway models, but some of us men surely like this shape more than what the fashion designers are currently looking for to wear their creations.
[adsense300gray]With the risk of being lynched by Kate Upton's fans, what does she have on Lucy? The blond hair, the naughty style? Why is one so over-rated and the other under-rated?  Rhetorical questions, don't bother – I see the beauty in both of them. An angelic beauty versus a naughty little devil.
While there's no question she's a true beauty, Lucy does excel in innocence and cuteness. That does it for me, but it doesn't stop there! Add a killer body and a magnificent (and I do mean Magnificent!) pair of breasts to that angelic face, and there you have it – the mesmerizing Lucy Bayet. Check out the High-quality photo gallery below.